Windscreen Protection Film Due to the constant construction and road works in Qatar, windscreens can become chipped almost on a daily basis! That's why we at Cars Protection introduced a unique Windscreen Protection Film, designed to reduce the impact and subsequent damage to the vulnerable glass in your vehicle.This relatively inexpensive product gives you peace of mind, whilst not affecting the clarity of your vision either day or night.Can be applied to all vehicles including trucks & buses, to reduce the costly repairs or replacements to front windshields.Also used for protection of construction vehicles and earth moving equipment where vision and safety are of the utmost importance.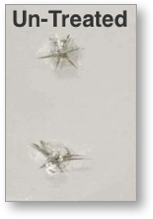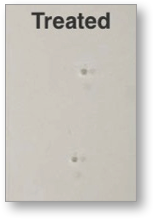 The image on the left shows the result of stones striking an unprotected windscreen at 96 km/h. The treated windscreen, on the right, shows the results of the same impacts on a windscreen fitted with our Windscreen Protection Film.
The Windscreen Protection Film is thermally fitted to every curve of the windscreen, forming a bond with the glass, and ensuring optical clarity.

The Windscreen Protection Film compliments our 3M Window Films, giving you complete protection from the sun whilst protecting your windscreen against accidental damage.