Now available to purchase from any of our branches is the superb range of 3M DIY Care Care products.3M has long be renowned for its professional automotive products used throughout bodyshops Worldwide, with the experience gained over many years in this field they have developed a range of outstanding products designed for use by vehicle owners, to help clean, protect and maintain that showroom finish.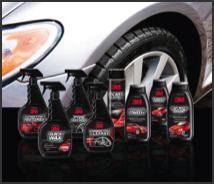 Car Wash Soap:




A highly concentrated formula producing long lasting suds.

Quick Wax:




Fast acting detailing spray-on wax for automotive paint finish.

Performance Finish:




Superior paint sealant to help maintain the high gloss shine.

Scratch Remover:




Mildly abrasive compound polish to remove swirl marks.

Leather and Vinyl Restorer:




For cleaning interior surfaces without silicone residue.

Wheel and Tyre Cleaner:




For removing brake dust etc. from alloy wheels.

Tyre Restorer:




Bringing that as new appearance back to tyres.

Glass Cleaner:




An advanced cleaner for use on all Automotive Glass.

Foaming Engine Degreaser:




For those that go the 'extra mile' when cleaning their vehicle.

Microfibre Detailing Cloth:




The ultimate in multi purpose cleaning cloths.